Nottingham on Call GO!
Who is this for?
The GO! has been designed for the more active user. Just because someone is older, or more vulnerable, it doesn't mean they can't have their independence, which includes leaving the house.
We recognise that our customers do spend time out and about, going to the shops, meeting friends or even just walking the dog.
But there is always the concern, that if you were on your own and something happened, what would you do? Would you be able to easily get help? Could you direct someone to your location?
We don't want these sort of worries to stop people getting out and about and making the most of their days. 
That is why we have worked alongside product development experts at Chiptech to bring the GO! to our customers.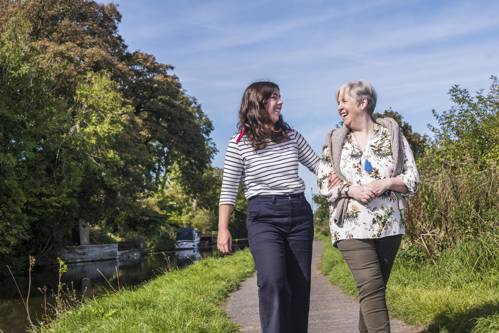 We've put together a short video to highlight the benefits of the GO!
Have a watch and see what you think! 
Features of the GO!
Two way speech – this means you can speak and listen to the call centre wherever you are, as soon as you press your alarm, it will ring through to one of our local advisers. You will be able to hear them, and they will hear you. 
Falls detection – this will automatically raise an alert with the call centre if you have a hard fall. An operator will try to talk to you once they receive an alert, to check you are ok. If they don't hear your response, they will immediately send help.
GPS location – the call centre will know where you are when you press the alarm, if you are not able to tell them. The GPS location function, that is built into your alarm, means we can tell a family member or friend where you are, if they are nearby. Or, our unique local response service can send someone out to help you. In the event of a medical emergency, we can send an ambulance to your location. 
1–2 months battery life – this is dependent on usage, but you will get a warning when the battery is low with up to two days battery life left, and you can then use the simple wireless charger provided.
Interested? Get in touch to find out more!
How do I use the GO?
It can be worn as a pendant or keyring, and thanks to its two-way speech feature, it enables you to contact our 24 hour call centre, wherever you are, at any time of the day or night.
Our local team will be on the end of the phone to make sure you are reassured, get help if you need it, and/or contact your friends or family, send a member of our local response team (for non-medical emergencies) or contact the emergency services.
As the GO! is built with a GPS location function, our team is able to pinpoint your location when you press the alarm and direct help to you.
Jeff Noon, one of our Assistive Technology Officers, shows here just how the GO! works when you're out and about.